Ambulatory Blood Pressure Monitor
ergoscan stands out for its precise blood pressure measurements. The specially developed measuring technology ensures the reliable suppression of artifacts. The accompanying Windows® software offers comprehensive display and evaluation functions. It is easy to install in an existing PC network for connection to a medical office/hospital data management system.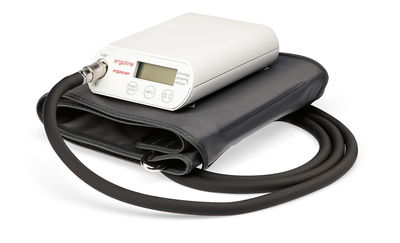 precise measurement technology
stable cuff connector
programmable measuring intervals
digital interface (USB)
PC software for ergoscan
No interfering microphones and electrodes are needed due to the oscillometric operation of the ergoscan recording device.
The short measurement process, the ergonomic design, and especially the very low weight of the recording device (only 190 g with batteries) ensure high wearing comfort for patients. Only two AA batteries are needed for a complete 24 hour recording.
A reliable snap-on metal cuff connector ensures a tight connection between the cuff and the recording device.
A number of different cuff sizes are available for the ergoscan system.
The integrated day/night button allows for individual activation of the night interval—independent of programmed interval times. That allows for the precise evaluation of the diagnostically important differences between the day and night phase without any subsequent manual corrections.
Additional measurements can be triggered at any time at the push of a button, while the most recent measuring value can be opened up on the LC display with the INFO button.
The recording device is connected to the PC via the integrated USB port.