Accuflow Drip Monitor
Accuflow Drip Monitor device is used to monitor the gravity infusion and to provide alarms during the critical conditions.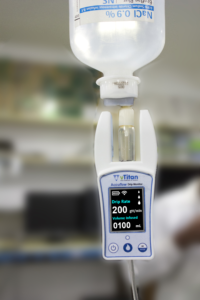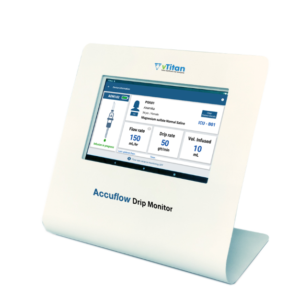 Need for ADM device:
To overcome the challenges faced by the nurses and patients during the IV administration in individual rooms
and high dependency rooms through the gravity infusion        
Benefits of using ADM device:
Smart infusion monitoring solution.
Avoids manual calculations and reduces nurse workload.
Provide alarms during the critical conditions.
Improves patient safety & quality of care.
Key feature:
Wi-Fi enabled device with remote monitoring solution. Real-time infusion monitoring of multiple devices at a time same
from the nurses' station
Infusion Monitoring Made Simple
Reduces Nurse Workload
Helps the nurses to set the infusion rate accurately. Avoids frequent nurses' intervention. No calibration and maintenance required.
Remote Monitoring
Dashboard to monitor the infusion status of multiple devices in real time via Wi-Fi.
Critical Alarm Display
Alerts the user during critical conditions — Infusion stopped, IV bag empty and Flow rate exceeded.
Improves Clinical Workflow
Automatic report generation, Additional nurse assist tools, Easy compliance to clinical protocols, Usage of device recommended by           and INS.
Improves Patient Treatment Outcomes
Monitors the IV therapy closely and provides real-time alerts on IV status. Proper maintenance of patient's IV therapy records which will be useful for future treatments.

Affordable
Cost—effective, accurate infusion monitoring device with 24 hours battery backup.
Remote Monitoring Solution
Dashboard
The dashboard displays all the configured devices along with the device status chart.
During a critical alafm condition, the particular device is displayed in red colour to alert the user in real-time.
Device and Patient Information
Infusion parameters – Flow rate, Drip rate and Volume infused are displayed in feat-time.
The patient information along with the bed number and care area are displayed on the screen.
Automatic Report Generation
The automatically generated report contains all the events happened during the IV administration to the patient along with the device information.
The generated report can be exported in .CSV file format. It can also be shared via email.
Nurse Assist Tools
Nurse assist tools – Drip rate calculator, Drop counter and IV order scheduler are provided to help the nurses in theif day-to-day activities.
Automatic drip rate calculator to avoid manual errors. Drop counter tool to verify the set drip rate. IV order scheduler tool to schedule the IV orders.