BODY PLETHYSMOGRAPHY
BODYSTIK
The comfortable bodyplethysmograph
The Bodystik optimizes patient comfort and procedures
The Bodystik full body plethysmograph is designed with comfort in mind. Comfort of both, patients and users. Incorporating a sturdy swing-out-chair, patients with restricted mobility are able to access the box in comfort, this design also makes assisting patients with restricted mobility easier for the user.
The fully height adjustable arm is adjusted electronically via a simple and intuitive control panel, on the outside of the cabin, allowing for small adjustments even when the cabin door is closed. This compact electronic arm helps to increase the useable internal space of the Bodystik again adding to patient comfort.
The five large tempered safety glass windows of the Bodystik allow the patient a good view of the user during the test and so add to patient comfort under test conditions. The large glass surfaces help to reduce non compliance from patients who otherwise would not want to enter a body box.
Patient, user Communication is via an intercom system with a microphone situated in the control panel and loudspeakers inside the Bodystik clear instructions can be given to the patient throughout the test procedure.  The powerful BLUE CHERRY® software suite is enabled with functions that support the performance and control of breathing, thus the user is able to easily monitor and support the patient during testing. Bodystik optimises workflow and fits seamlessly into the daily clinical routines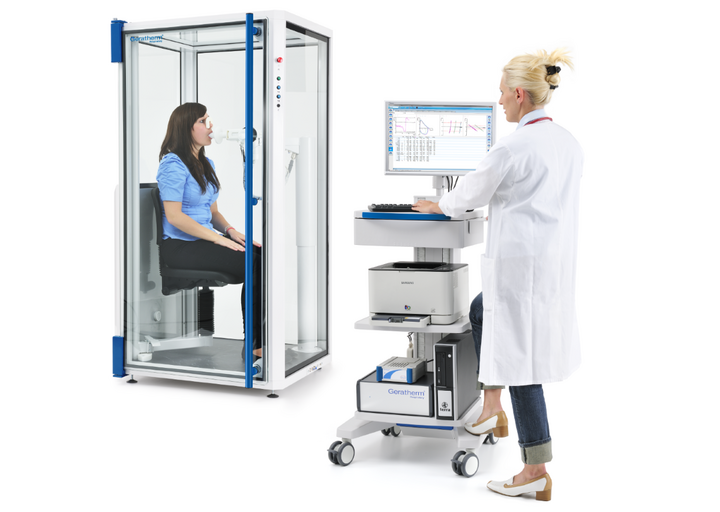 Easy cabin entry
The swivable patient chair and
the extremely low door step
allow even physically impaired
patients easy cabin entry.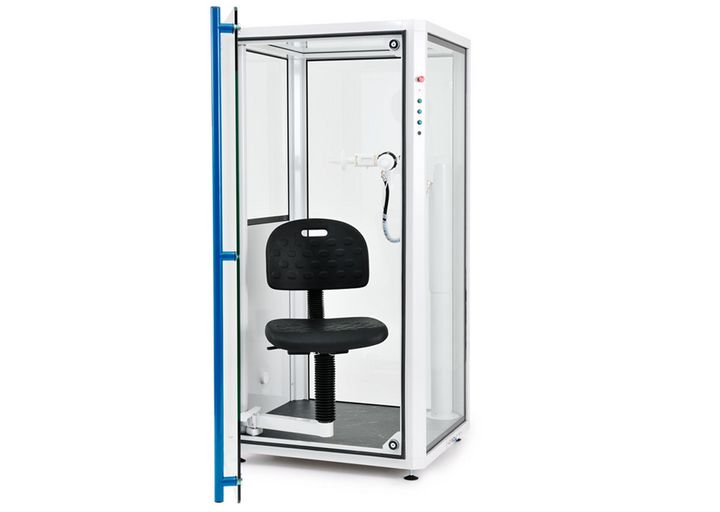 Modern construction
The sturdy aluminum construction and the five large tempered safety glass windows create a pleasant interior with maximum stability.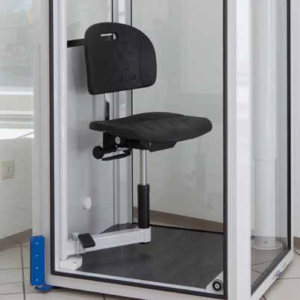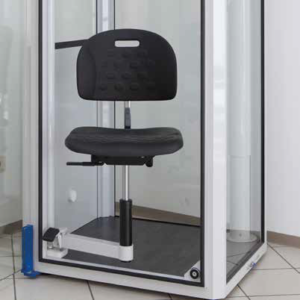 Electromagnetic door lock
The door can always be opened from inside and outside the cabin by simply pressing a button.An LED indicates whether the door is completely closed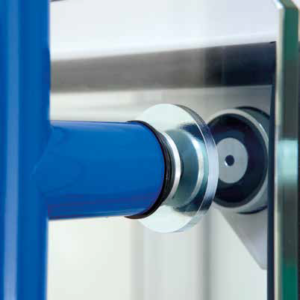 Optimal patient care
Automated measurement procedures, software-based instructions and an intercom   system provide optimal patient management.
Electrical height adjustable stand
By pressing a button, the measurement apparatus can electrically be adjusted to the optimal height of the patient,even when the door 60 degrees is closed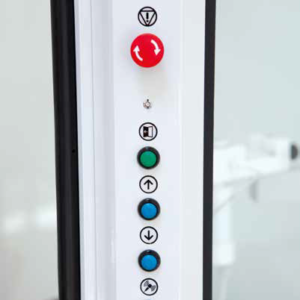 Quick quality control
Reproducability and patient cooperation can be quickly evaluated according to ATS/ERS
criteria and by overlaying curves.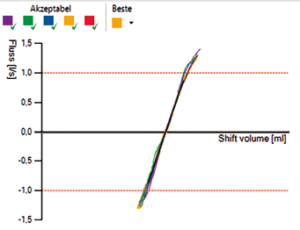 BLUE CHERRY® – The powerful diagnostic software
Geratherm Respiratory is continuously developing BLUE CHERRY® to encompass the latest clinical advances and to further improve its use with helpful new functions. Some features include
Integrated quality control and measures according to ATS/ERS guidelines
Interpretation algorithms and proprietary interpretation graphics for spirometry
Latest GLI predicted values (2012 and 2017) including Z-Scores
Individually configurable reports
Long-term trending and overlay of tests
User accounts with different authority levels
Optimised workflows through interfaces with HL7 or GDT to existing Hospital systems
Powerful reporting including .pdf export
Complex and safe network installations with central SQL database