DLCO-CO Diffusion
DLCO  (diffusing capacity or transfer factor of the lung for carbon monoxide (CO)) is the extent to which oxygen passes from the air sacs of the lungs into the blood.

DIFFUSTIK
The Diffustik adapts to your needs and to those of your patients
 The Geratherm Respiratory Diffustik is the ideal measurement device for lung diffusion, offering reliable, reproducible results from an infrared fast gas analyser.       
           Diffustik has been developed as part of a modular system which can be expanded with the addition of further modules. Thus the carbon monoxide diffusion capacity (DLCO) and accompanying spirometry parameters, such as flow-volume and MVV, can be enhanced with other diagnostically relevant values, such as MIP/MEP, Rocc/Rint or respiratory resistance and lung volumes, with the addition of hardware and software options.
                               The power of the Diffustik comes from the infrared fast gas analyser, enabling analysis of gas concentrations in real time during inspiration and expiration. The powerful BLUE CHERRY® software for pulmonary function diagnostic quickly calculates the results and displays user-friendly curve views along with the measurement values.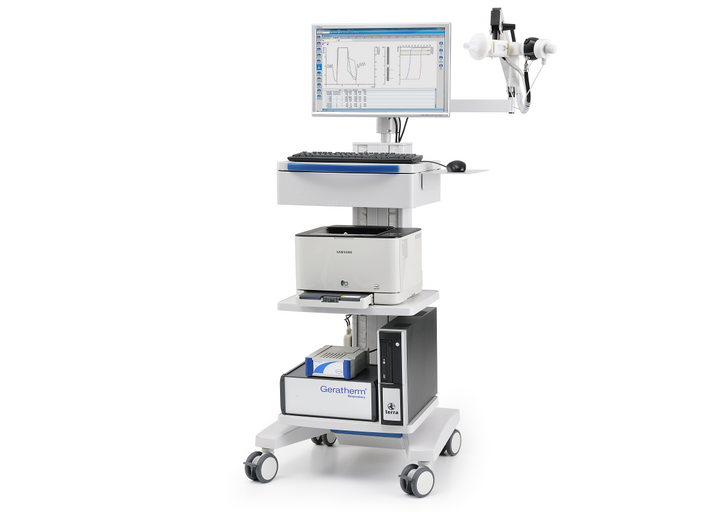 The Diffustik system coupled with BLUE CHERRY® diagnostic software offers the measurement of a full suite of spirometry values together with the CO diffusion (DLCO Diffusing capacity or TLCO, Transfer factor  of the lung for carbon monoxide) Together, this is enough information to enable a functional differentiation of bronchial asthma, and chronic obstructive pulmonary disease (COPD) such as pulmonary emphysema.
Fast gas analysis using the powerful infrared analyser has revolutionised single breath CO diffusion measurement. The real-time analysis of the inhaled gas removes the requirement for calibration of the system prior to test, this greatly reduces test time and in turn helps to improve the patient experience. The use of carbon monoxide and methane allows the system to determine diffusion capacity together with a single breath measurement of lung volume.
Offline processing
            The manual correction of washout and sample volume allow valid results even in difficult tests
      As with all Geratherm Respiratory systems the Diffustik is controlled by the powerful BLUE CHERRY® cardiopulmonary diagnostic software, measuring, evaluating and displaying results. The simple to understand graphical display shown throughout the test procedure helps the user quickly identify possible leaks for example at the patient mouthpiece connection, as well as providing information about lung anatomy.
Large swivable range
The height of the measuring apparatus can be adjusted quickly over a large swivable range and allows measuring in standing and sitting position.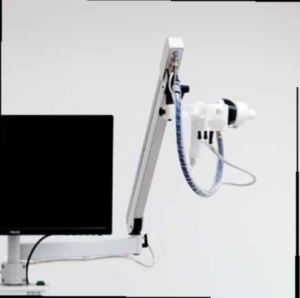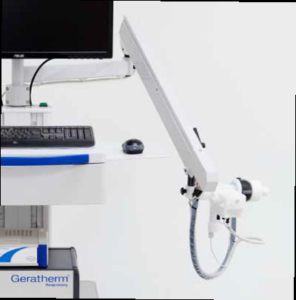 upward and downward swivable by approximately 60 degrees
Modular concept
    The CO diffusion can be extended with additional options such as MIP/MEP and ROCC or integrated in the Bodystik system.
System solution 
Devices and review workstations can easily be combined to a productive total system and can be networked via GDT or HL7 interface in the local PMS/HIS.

BLUE CHERRY® – The powerful diagnostic software
Geratherm Respiratory is continuously developing BLUE CHERRY® to encompass the latest clinical advances and to further improve its use with helpful new functions. Some features include
Integrated quality control and measures according to ATS/ERS guidelines
Interpretation algorithms and proprietary interpretation graphics for spirometry
Latest GLI predicted values (2012 and 2017) including Z-Scores
Individually configurable reports
Long-term trending and overlay of tests
User accounts with different authority levels
Optimised workflows through interfaces with HL7 or GDT to existing Hospital systems
Powerful reporting including .pdf export
Complex and safe network installations with central SQL database