AccuVein AV 500
AccuVein's near-infrared (NIR) technology enables healthcare professionals to visualize the superficial vasculature in order to identify veins for optimal peripheral venous access or avoiding veins during aesthetic procedures.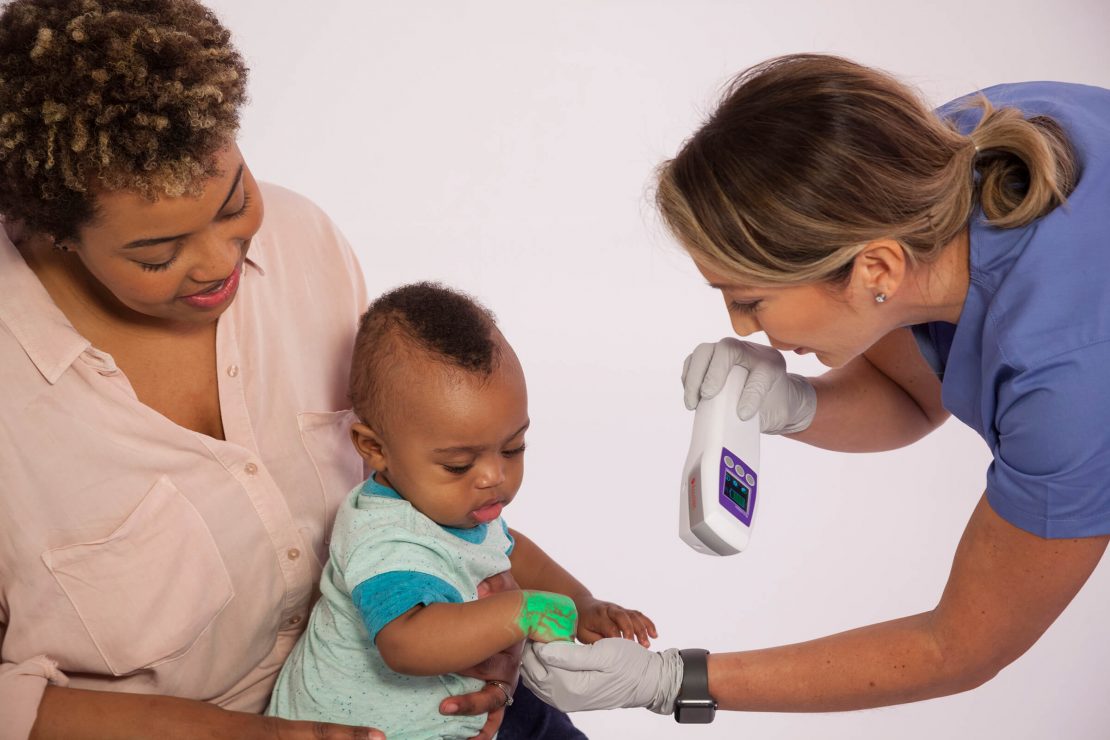 Supports PIV Best Practice
Imaging veins and blood patterns pre, during and post procedure ensures proper site selection, aids in successful catheter insertion and may help identify hematomas, infiltration or post-flush vein refill.
Fast, Precise Scanning
The high speed near-infrared (NIR) laser technology allows for crisp image processing and quick scanning. Rapid image refresh rates result in no lag or image distortion; accommodates patient movement.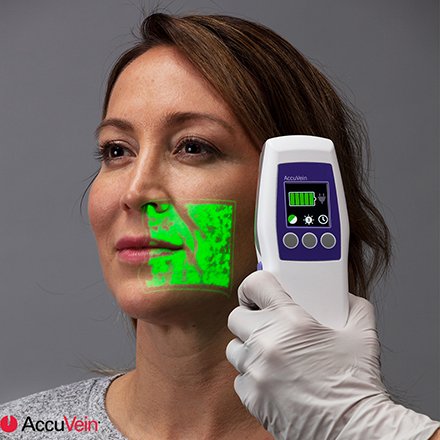 True Center™ Accuracy
The True Center™ technology allows clinicians to accurately view the center-line of the vein regardless of the distance. Unlike other vein visualization devices, the AV500 is permanently aligned and there is no need for device calibration prior to use.
Always in Focus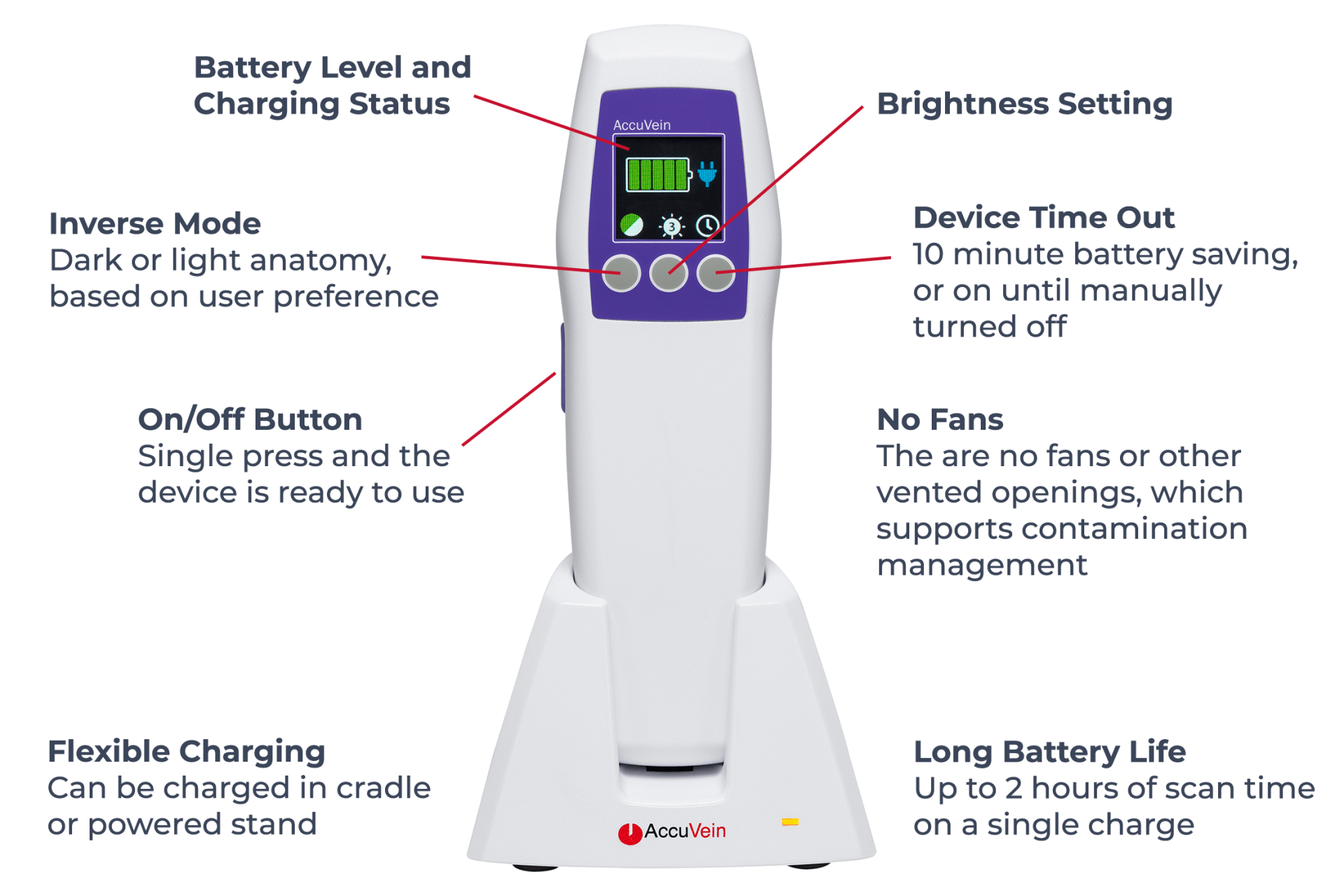 An accurate, in-focus image to scale is projected when the device is positioned 6-10 inches (15 -25 cm) above the patient's skin surface.
Enhanced Site Selection
Using the AccuVein™ AV500 allows clinicians to visualize veins, bifurcations, valves, blood refill, and related blood patterns up to 10mm below the surface of the skin. Otherwise, not seen by the naked eye or through palpation.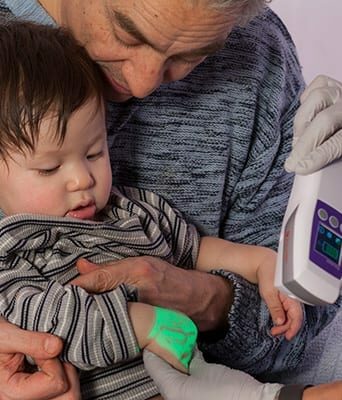 Works with All Skin Tones
The AccuVein™ AV500 provides a clear, uniform vein image for all skin tones and has variable brightness settings to accommodate all light conditions.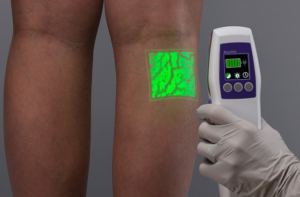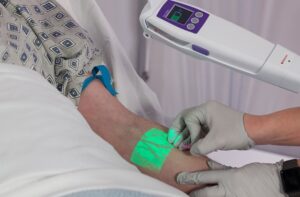 Uniquely Easy to Use
With a one button instant on and a sleek, ergonomic design, the AV500 is the leading vein visualization device on the market. It is permanently aligned and in-focus when positioned 6-10 inches (15 -25 cm) above the patient's skin surface.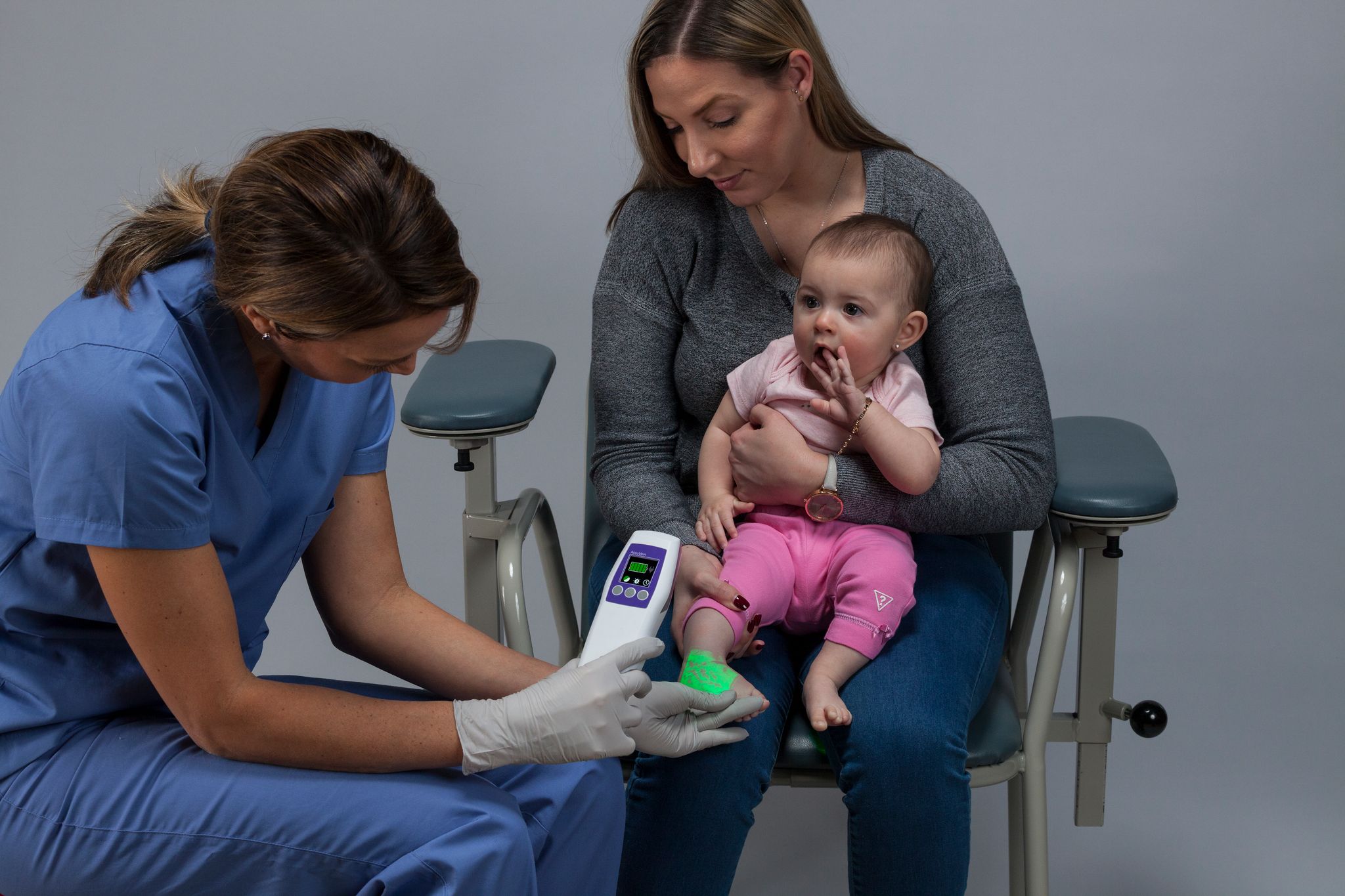 Handheld to Hands-free
The device is lightweight and ergonomic; weighing only 10 oz (283 grams) and easy to hold in one hand for an initial scan.
Quickly convert to handsfree by inserting the AV500 into either the AccuVein™ HF510 Portable Arm Mount or HF580 Powered Wheeled Stand.
Class 1 Laser Rating
The device is eye-safe to use under all conditions with no special precautions required.
Simple to Clean
The sealed housing design contains no fans or vents! Just simply wipe down the device using isopropyl alcohol or hospital wipes (see IFU for approved cleaners).
AccuVein offers hands-free solutions ideal for any medical setting in which vein visualization needs to be brought to the patient.
The AccuVein HF580 is a flexible, wheeled stand with a built-in charging capability for hands-free and mobile applications of the AccuVein AV500 Vein Visualization System; ease of use at the bedside or chair.​