FENO NIOX AND NNO (NASAL)
New NIOX Aerocrine-Fractional exhaled Nitric Oxide (FeNO) and Nasal Nitric Oxide(nNO) monitoring
Accurately assess and monitor airway inflammation
Fractional Exhaled nitric oxide (FeNO) is a quantitative, noninvasive, simple, and safe method of measuring airway inflammation that provides a complementary tool to other ways of assessing airways disease in asthma patients.
Specifically, FeNO is an objective measurement of allergic/eosinophilic inflammation. Airway inflammation results from the activation of mast cells and antigen-specific T-helper cells type 2 (Th2) resulting in the production of cytokines including interleukin (IL)-4, IL-5, and IL-13.3 This is an important distinction as Th2 allergic inflammation and eosinophilic inflammation are not one in the same. However, they are very closely associated with similar molecular pathways and crossover.
Measuring FeNO with NIOX VERO across the entire patient care continuum can help
In Diagnosis of Asthma and Identifies Patients with Th2/Type 2 Allergic/Eosinophilic Inflammation
Determine Steroid Responsiveness and Optimise the Dose of Inhaled Steroids
Uncover Non-Adherence to Inhaled Corticosteroids
Reduce the Likelihood of Exacerbations in Patients at Risk for Future Events
Identify Asthmatics Who Are Possible Candidates for Treatment with a Biologic
To date, over 18 million tests have been performed using a NIOX device, supporting clinicians to enhance the accuracy of diagnosis and better-personalized control.
Aerocrine provides a range of programs and connectivity solutions for use with NIOX ®(FeNO) . A fractional exhaled nitric oxide (FeNO) breath testing monitor to measure airway inflammation and improve asthma management.To measure FeNO and aid in diagnosing asthma, in adults and children, as well as monitoring and managing asthma symptoms of patients. Aerocrine is continuously developing and documenting FeNO measurement as a valuable diagnostic tool in the management  of airway disease.
Nasal Nitric Oxide(nNO) 
nNO has been shown to be decreased in patients with PCD.
Measurement of nNO can assist in the identification of cases of PCD according to ERS guidelines.
Effective screening of patients with low risk can rule out non PCD cases and avoid further invasive and expensive confirmatory tests, whilst not missing true cases.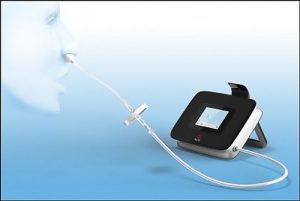 NIOX VERO® nNO application provides a non-invasive and cost-efficient way to differentiate patients with PCD from healthy individuals.
NIOX VERO is the only CE marked nNO device with documented clinical data for differentiating patients with PCD from healthy individuals.
NIOX VERO® is a non-invasive, simple and safe, and time-saving FeNO device which offers:
Accurate FeNO results in a single measurement at the point of care
FeNOresults in approximately ONE minute
Routine FeNO monitoring to aid in treatment optimization
The ability to evaluate an asthma patient's response to anti-inflammatory therapy  
Features:
Provides an additional external display with a choice of three different animations
Enables the device to be remotely controlled from the PC or tablet
When you connect, the screen on your  desktop replicates the screen on NIOX VERO
Provides a service log which can be downloaded  for Customer Support in case of troubleshooting